The Indiana Northeastern is proud to support over 1,000 jobs and 35 businesses with its freight rail service. In addition, our community partnerships help welcome 10,000 visitors to the region on an annual basis.
Railroads touch nearly every facet of our lives, but for many Americans, how railroads operate is a mystery. In addition to providing billions in savings to consumers, and reducing pollution, gridlock, and greenhouse gas emissions, railroads contribute millions to the tax base and strengthen the workforce and industries in our biggest cities and smallest communities.
In Indiana, short line railroads employ over 1,300 full-time employees, pay approximately $3.1 million annually in state and local taxes, and move over 896,000 carloads of freight a year. That's equivalent to 3,584,000 truckloads leading to an estimated $154,112,000 in annual pavement damage savings.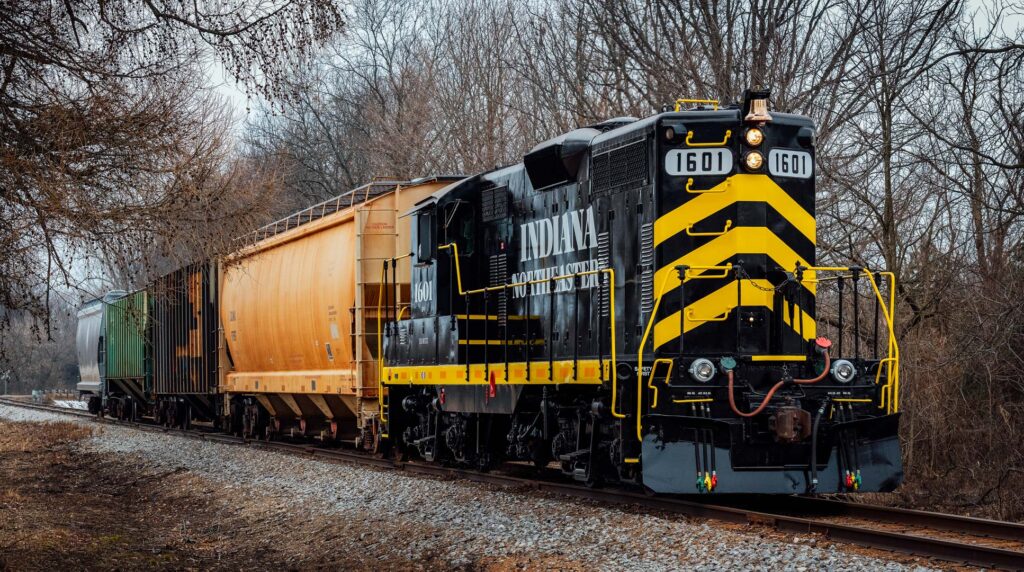 Here are some facts about the freight rail industry – and how your business can ship your products by rail in an environmentally friendly and cost-effective manner.
FREIGHT RAIL SHIPPING 101 – from the American Association of Railroads
International Trade: Railroads account for around one-third of U.S. exports by volume. Without railroads, American firms and consumers would be unable to participate in the global economy as they do today. Cost savings. Railroads help their customers control their prices, saving them and U.S. consumers billions of dollars each year, enhancing the global competitiveness of U.S. goods, and improving our standard of living.
Low Rail Rates: Average U.S. freight rail rates (measured by inflation-adjusted revenue per ton-mile) were 44% lower in 2020 than in 1981. This means the average rail shipper can move much more freight for the price it paid around 40 years ago.
Taxpayers: From 1980 to 2021, America's freight railroads, the vast majority of which are privately owned, spent nearly $760 billion — averaging well above $20 billion a year over the past five years — on capital expenditures and maintenance expenses related to locomotives, freight cars, tracks, bridges, tunnels, and other infrastructure and equipment. These investments help freight railroads save taxpayers billions of dollars each year since America's freight railroads operate overwhelmingly on infrastructure they own, build, maintain, and pay for themselves.